Day Two of the Canadian Freeskiing Championships, originally scheduled for Saturday, has been moved to Sunday to accommodate for poor
weather conditions.
Day Two's venue is schedule to take place on Mackenzie Face above Greely Bowl with a helicopter being used to drop competitors at one of two start areas along the ridge.
Unlike the venues used for the Qualifier and Day One, this area is outside of ski area boundaries of Revelstoke Mountain Resort.
"We're pretty much going into big mountain situation," head judge Jim Jack cautioned competitors on Friday.
There is no back-up plan for tomorrow; if the visibility is poor again, Day Two will be cancelled and the results of Day One will decide the winners of Competition. Day Two was cancelled at the first stop of the 2010 Subaru Freeskiing World Tour in La Parva, Chile, and presumably competitors and organizers are hoping not to have a repeat situation at the second stop of the FWT here in Revelstoke.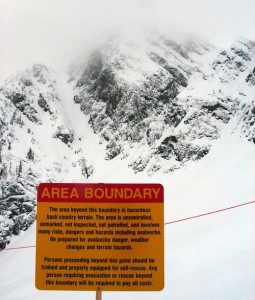 Luckily, the forecast for RMR looks promising, predicting a mix of sun and clouds with light flurries.
Family festivities are still planned for 5pm Saturday at Grizzly Plaza.  Music will be provided by The Rev and footage from Day One will be played on a large screen. The awards ceremony will not be taking place as originally planned.
Skiers wishing to watch the event tomorrow (highly recommended) can reach the area by taking the high traverse into North Bowl via 'Drop-In' and following it traverse across the bottom of Powder Assault and onto the ridge that separates Greely Bowl.  Day Two will also be broadcasted live at www.freeskiingworldtour.com
The competition is expected to start tomorrow at about 11am, with women first, followed by the men. Competitors will start in the reverse order of how they placed in Day One.