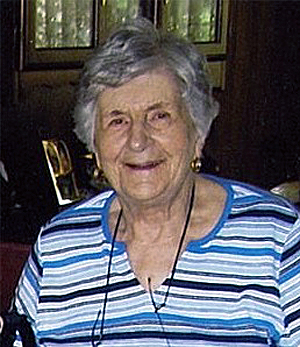 Mrs. Jessie Isabella Newlands passed away at Queen Victoria Hospital, Revelstoke on Monday, January 11th, 2010 at the age of 84 years.
There will be no formal funeral service by Jessie's own request.
In lieu of flowers, memorial contributions may be made to the Canadian Cancer Society 1633 Pandosy Street, Kelowna, B.C. V1Y 1P6 in memory of Jessie.
Jessie was born in Greenock, Scotland on June 6, 1925 and had been one of the first women to serve as a police officer in Edinburgh, Scotland.  In 1964 Jessie and her husband, Malcolm moved to Revelstoke and were one of the first to build their home in Arrow Heights.  Jessie worked for the Revelstoke School District at Mountain View School for a period of time before she started her work with Telus and its predecessors Okanagan Telephone and B.C. Tel.  She was a member of Eastern Star for many years.  Jessie enjoyed genealogy and was able to track her family history back many generations.
Jessie was predeceased by her parents and siblings and is survived by her husband of 51 years, Malcolm of Revelstoke; one son, Callum (Joanne) and granddaughter Mackenzie of Mission and daughter, Jane (Wade) Klody and grandson Eric of Harrison Hot Springs.
Cremation arrangements are in the care of Brandon Bowers Funeral Home, Revelstoke.
Jessie's family would like to thank Dr. Alexandra Farrugia, Revelstoke Home Care workers and the staff at Queen Victoria Hospital for all the wonderful care over the past several years.  Jessie always stated "that no one could have been given better care." A special thank you goes out to Jessie's dear friend Gwynne Battersby for all her assistance and support over the many years they shared together.