White Bean Dip
Baked Brie with Carmelized Onions
Glazed Sweet and Sour Meatballs
Apple Apricot Date Chutney
These appies, with a bowl of soup and a baguette, are substantial enough to make a meal for 4-6 people, or to provide munchies for a larger group. All can be partly made ahead of time, so you can cook the night before and come back from the hills to do the finishing touches. If you don't have time to make the meatballs or the chutney for the sweet-sour glaze, get the meatballs already skewered from Mountain Meals and the chutney from Paramjit's Kitchen.
The dish for Baked Brie makes a great hostess gift. It comes in its own very attractive storage box for $19.95 at Chantilly Kitchen Bed and Bath on Mackenzie. It's microwavable and a perfect size for reheating small portions of just about anything.
Drinks with appies
After a day skiing, few things go down so smoothly as a local Mount Begbie beer. The honey coloured ales are a perfect match for munchies , especially the meatballs and the Brie—both are too tart to call for any but the very driest of wines.
For a non-A fizzy sugarless soft drink alternative, made with—get this—balsamic vinegar and sparkling water, try soda and balsamic. Refreshing and delicious, without the cloying sweetness of most soft drinks, these are a big surprise, given that most of us have never thought of vinegar as a cocktail.
Balsam and soda
Put 2 ice cubes in a tall glass
Cover the ice with one of the flavoured balsamic vinegars from Crescendo: I've tried calamandine, pomegranite balsam or star apple balsam; Daniel and Elvira at Crescendo tell me that the raspberry and cherry balsams are also nice.
Garnish if desired with a slice of orange or lemon .
White Bean and Balsamic Dip
This is a healthy dip—not no-fat, but less fat than many cheese dips, and with a fresh, light flavour. The recipe originated with Gourmet. Serve with parmesan toasts, or celery and cucumber sticks. Other crudités are so strongly flavoured they overwhelm the nuanced taste of the beans with vinaigrette.
½ lb. dried white baby lima beans, soaked overnight in 6 cups water, then simmered in 4-6 cups water for 2-3 hours, until done, and drained
2 slices bread, crusts removed, crumbled
1/3 cup thick whipping cream
2 garlic cloves, simmered in 1 cup of water for 3 minutes, then cooled and chopped
2 tsp. Dijon mustard
5 tbsp. quality cold pressed virgin olive oil
4 tbsp. balsamic vinegar: I used a combination of beer balsam and Balsamic de Montilla—you need a strongly flavoured but not bitter balsamic
freshly ground black pepper, about ½ tsp. or to taste
½ tsp. course salt. Hawaian red salt is good
Cook the beans and cool slightly. Crumble the bread into the cream. Mix the olive oil, chopped garlic, balsamic vinegar, mustard and salt and pepper in a cup. In a food processor, purée the beans until smooth; add the cream and bread and the vinaigrette mixture. Puree again until well integrated and smooth—this may take 3-4 minutes of pulsing the chopper, as the beans tend to stay lumpy. Keep working, it will get smooth. Remove and spoon the dip into a serving bowl. Drizzle a very few drops more olive oil and balsamic on top, and surround with parmesan toasts or veggie crudités.
Salt in beans
Tinned beans contain preservative and 250 to 450 times the sodium of dried beans, which have none. For tinned beans without an overdose of salt try Eden Organic, with only 15-40 mg of sodium per ½ cup of beans. Ref: The Complete Food Counter, 3rd edition (2009) by Annette B. Natow and Jo-ann Heslin, a useful book listing packaged and chain restaurant nutritional values. Despite the extra trouble, I urge you to try dried beans for the dip. The day before you want to use them, soak the beans overnight, then simmer them in water (no salt) for 2-3 hours until they are cooked. (Sounds tedious but actually is a breeze, especially if you use a slow cooker.) If you must use tinned beans, drain them well, throw away the juice, and wash them under running water in a sieve for 2-3 minutes to remove as much salt as possible.
Baked Brie with Caramelized Onions
This makes the most of the baked brie without turning it into a dessert. Or use a compote (Chantilly has a selection) with a sweet-sour tang—it needs to complement and offset the richness of the creamy Brie. Make the carmelized onions ahead of time—they take at least an hour.
For the carmelized onions:
2 tablespoons (1/4 stick) butter
8 cups sliced onions (about 4 large)
1 tablespoon minced fresh thyme
4 garlic cloves, chopped
1/2 cup dry white wine
In a heavy saucepan, melt the butter and put into it the onions, garlic and thyme. Stirring, sauté the onions until they are translucent. Add the wine in small amounts, stirring all the time, until you can see that the wine is absorbed. Turn down the heat and leave the onions to sauté very slowly over about an hour, stirring occasionally to incorporate brown bits. Add salt and pepper, and when the onions are a pale tan, remove from heat and reserve in a small bowl.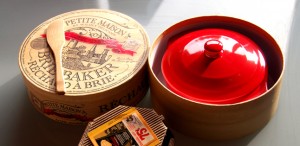 Bake the Brie
Buy a whole round of Brie that will fit into a small ceramic casserole, and a good baguette or plain thin crackers.
Slice the top rind off the Brie and put it into the casserole or Brie Baker. Put the onions on top and bake 30 min at 350F.
Serve with baguette slices or crackers.
Variation: instead of carmelized onions, use the apple apricot date chutney below.
Sweet and Sour Meatballs
Meatballs are tricky if you are trying to get good texture as well as great flavour. The take-out meatballs on skewers from Mountain Meals are perfect for glazing with sweet and sour sauce—or you could skip the sauce altogether. Also acceptable are the frozen Western Family Italian beef-only meatballs from Coopers. I don't usually recommend anything in a box, but in this case there appear to be no non-food additives, and frozen does spell convenience. To cut corners on the glaze that makes these meatballs so delectable, you could replace the apple date apricot chutney with mango chutney from Parmanjit's Kitchen or from Pam at the Community Market on alternate Thursdays.
Shape the meatballs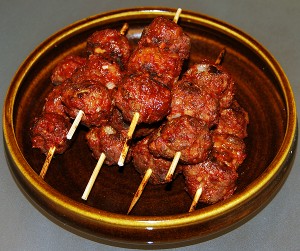 You can make the meatballs ahead of time and freeze them or keep them, baked, in the fridge for a day before using them.
1 lb. lean (not extra lean) ground beef
½ cup milk
½ cup fresh bread crumbs (2 slices bread without crusts, crumbled)
1 egg
salt and pepper to taste
1 Tbsp. tomato paste
½ cup minced onion.
In the blender, combine the milk, egg, minced onion and tomato paste and whiz until smooth. Turn into a bowl. Add the ground beef and mix well with your hands. Add salt and pepper. Form into small (1 inch diameter) balls and place on a very lightly oiled baking sheet. (With your hands rub ½ tsp. of olive oil over the sheet. Avoid sprays; they contain propellant, usually propane gas.) You can freeze the meatballs at this point, or keep them, covered with plastic, in the fridge overnight. You could glaze and bake them at this point too, and reheat later but do this in the oven, not the micro, as the glaze needs proper heat.
Make the sweet-sour glaze
Makes about 2 cups
½ cup fresh orange juice (I orange squeezed)
½ cup apple date apricot chutney (see recipe below) or Pam's mango chutney
½ cup water
2 Tbsp soy sauce
2 Tbsp lime juice
1 Tbsp balsamic vinegar
1 tsp Dijon mustard
Put all the ingredients into the blender and pulse until smooth. Pour into a saucepan bring to a boil. Simmer for 3-4 minutes. Remove from heat and reserve in a bowl.
Glaze and cook the meatballs
Preheat the oven to 375F. If you want to put the meatballs on skewers, soak 4 inch wooden skewers in water for 15 minutes, then put 2-3 meatballs on each one. Otherwise, just cook and serve with toothpicks.
Use a pastry brush or basting brush (the silicone ones aren't as effective here as the old fashioned ones with plain bristles) coat each meatball with the sweet-sour glaze. Bake for 30 minutes, turning once (be careful when you turn the meatballs over not to break them—a small metal spatula is useful for turning.)
If you wish to serve more of the glazing sauce with the meatballs when you serve them, bring it to a boil quickly again after the glazing process and keep warm until serving time. (I found the sauce is piquant as a glaze, and too mouth-puckery as a dipping sauce, but tastes do vary.)
Apple Date Apricot Chutney
About 3 cups. Use this in the sweet sour glaze for meatballs. It's also great with Baked Brie, or with bread and cheese, or with pork or chicken.
6 apples or 4 apples and 2 pears, peeled, cored and chopped
1 cup pitted dates, chopped or scissor-snipped
1 cup dried apricots, scissor-snipped
1 cup brown sugar
½ cup apple cider vinegar
½ cup fresh orange juice
1 small onion, peeled and finely chopped in ½ inch bits
1 Tbsp freshly grated ginger
¼ tsp. ground nutmeg
¼ tsp. salt
Combine all ingredients in a large saucepan and bring to a boil; turn heat down to low and simmer for 8-10 minutes or until all the fruit is soft and the mixture thickens slightly. Turn into clean sterilized jars; keep in the fridge; or freeze.