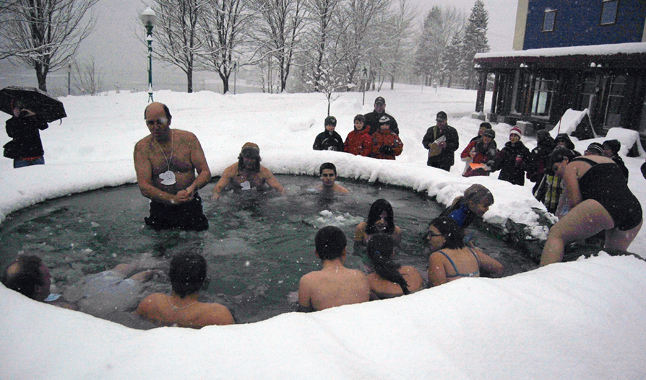 By David F. Rooney
Man! They were cold. Tony Rota and Lucas Schneble were the longest-lasting male plungers at the Second Annual Polar Plunge at the Community Centre on New Year's Day. To the amazement of onlookers the pair lasted more than 21 minutes in the icy water.
Rota especially amazed the crowd. Wearing a hat he nonchalantly ate snow and grinned throughout his frigid immersion. Schneble looked a little distressed towards the end but was determined to stay in as long as he possibly could. At more than 21 minutes the two men certainly won their category as most plungers couldn't withstand the water more than a couple of  minutes.
Organizer Ashley Rota said about 22 men, women and children took the Polar Plunge, which was a fund-raiser for the Revelstoke and District Humane Society. Many of the plungers had raised pledges from friends and family. Others who hadn't raised any money willingly gave a donation before doffing their clothes and stepping into the water. All plungers had to sink until the water was over their shoulders.
"We don't have an exact count yet but I think we raised more than $1,000," she said Friday evening. In fact, by Saturday evening she was able to report that the event raised $1,217.88 for the RDHS.
The longest female plunger was Brittney Percovich. The oldest plungers were Terry Beitel and Gord Robinson. The youngest plunger was Sam Larson who took a brief dip in the arms of Alan Polster (watch the video to see their dip).
Whitney Kendrick and Cory Beisel raised about $550, making them the winners in the Most Money Raised category.
Rota said the event would not have been possible without support from People's Drug Mart, Universal Footwear, Revelstoke Mountain Resort, Eagle Pass Heli Skiing, Modern Bakeshop and Cafe, Emo's Restaurant, Enchanted Forest and Sky Trek Adventure Park and the City of Revelstoke's Parks and Recreation Department.
Here are two other photos form the Polar Plunge as well as a video of the event.