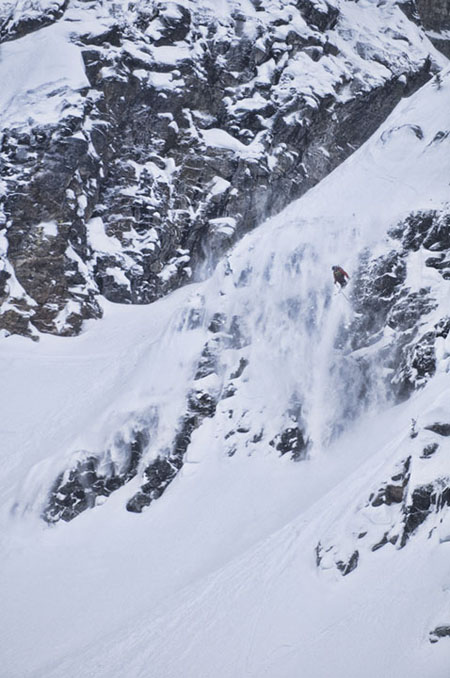 By Karen McColl
With bad visibility delaying the start of Day Two of the Canadian Freeskiing Championships on Sunday, it could have been a very anti-climatic end to an otherwise successful competition.
Stop two of the 2010 Subaru Freeskiing World Tour, hosted by Revelstoke Mountain Resort, started last Thursday with the qualifying round of competition. Day One was held on Friday and Day Two, scheduled for Saturday, was postponed to Sunday due to the weather situation.
Sunday morning was not looking any more promising.
Luckily, a few small windows of opportunity early in the afternoon allowed the Selkirk Tangiers helicopter pilot to navigate his way to the ridgeline of Mackenzie face where he was able drop all 27 athletes before the clouds sunk in again.
"We're going with plan A, which is the best possible scenario," said Director of Competition Bryan Barlow.
Day Two's venue was 'big mountain skiing' — steep and very exposed with numerous large cliff areas. Mackenzie face, beyond ski area boundaries, is rarely skied and RMR Pro ski patrol performed surface avalanche control early Sunday morning to prevent any skier-triggered slides.
Rather than having an on-site inspection as with most venues, competitors were able only to inspect their line visually before they were helicopter-lifted to the start zone.
Jess McMillan of Jackson Hole, Wyoming, had picked a line down a 10-foot drop into a 20-foot drop, but when she actually got down to it, she realized "it was more like 60 feet." While she backed out of this she gave a solid enough performance to give her first place in the women's competition.
2010 FWT leader Jacqui Edgerly of Aspen, Colorado, finished 2nd, and Angel Collinson, of Snowbird, Utah, took third, but had the most impressive run, moving her up from 6th place.
Competitors are scored on the difficulty of their line choice, fluidity, control, technique, and aggressiveness. The highest accumulated scores of Day One and Day Two decide the winner.
Arne Backstrom of Lake Tahoe, California, skied his line with no hesitation and won with a strong and fluid performance. Julian Lopez, the flying Frenchman,' from France, moved up to 2nd place, and Luke Nelson of Fernie, BC took third place in the men's.
Both of the Day One Leaders, Janina Kuzma and Chopo Diaz, took falls that knocked them off the podium.
At the conclusion of the Canadian Freeskiing World Tour, both organizers and competitors appeared happy with the quality of the competition hosted by Revelstoke Mountain Resort.
"This is one of the best competitions I've ever been too," said Jess McMillan. "The venue- spectacular, and the snow absolutely incredible."
It is fairly unique for competitors to have helicopter-access to a competition venue.
Ashley Tate, Director of Marketing and Sales with RMR, was also pleased with the outcome of the weekend.
"We think (RMR) is an incredible fit for the Freeskiing world tour. We are so excited to show our terrain, our snow, and our community.  Everyone is absolutely thrilled to make this happen," she said Sunday.
In its 12th year, the Subaru Freeskiing World Tour is the longest running freeskiing competition and awards over $100,000 in prize money over the course of six international stops. RMR has made a three-year commitment to host the event.
Revelstoke was the second stop of the tour which will continue with four upcoming stops in the United States.
Here are images from the last day of competition: