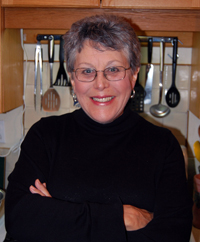 The very best part of running Chantilly Kitchen Bed and Bath, says owner Deenie Ottenbreit, is finding what people really want, then hearing back from customers that "they just love it." And that happens a lot in Revelstoke.
"Things are changing a lot in the home equipment field," Deenie says. "It's hard for consumers to do all the research. At the buyers' shows, manufacturers' reps use a lot of big language—technical information—to describe why one product differs from another. My job is to put this into layman's terms so that everyone can understand exactly what they're getting. I get a real kick out of it when people come back and tell me how they're using something, and that they really like it."
The big item this year has been the aluminum and ceramic fry pan by Paderno. "I can hardly keep them in the shop," Deenie says. "We've sold 175 ceramic frying pans in the past few months. This is an eco-product, a non-stick fry pan without any plastic. And no-one wants to use sprays anymore, because of the propane in them as the propellant."
If one type of thing has gained more in popularity with the new demographic of younger
buyers who are moms and men in the kitchen, it's eco products all around. In the bathroom-bedroom arena it's bamboo sheets and towels, and in the kitchen it's new nonstick and innovative tools that make life in the kitchen more fun—like the Brie Baker, chocolate fondu kit and garlic chopper.
Deenie started Chantilly in May, 2003. Six months later—five weeks before the Christmas season—a big fire in the building on November 16 that year caused a near disaster. "It was a huge hurdle. Our suppliers were fantastic, and really helped out," Deenie says. "We had to move all the linens and fabrics into a container van, and getting things cleaned up from the smoke damage was a big challenge. But within two weeks we had everything cleaned and restocked, and we re-opened for Christmas."
The Ottenbreits were able to buy the Howson building in 2004, and moved into the present location in 2005, after a renovation that "put it together as a kitchen shop should be." The shop was always planned as a three-part concept, with kitchen, bed and bath items to be available locally in Revelstoke.
Deenie, who originally hails from Kaslo, has been in Revelstoke for 33 years. She and Dave met in Kelowna at College, where she studied accounting. They moved to Revelstoke to stay with a four seasons mountain and water environment. Deenie is a keen skier—their daughter Lisa was a ski racer, and Deenie a ski-race mom for years—and she loves the new development here. "Sports adds balance to life, particularly for kids," she says. Before opening Chantilly, Deenie worked as an insurance broker, "but family always came first. There were times when the hill here didn't open, and I drove the ski club kids to Vernon every weekend. One year there wasn't a coach, so we did the whole thing with gear and passes and suppers after practice."
Nowdays, with daughter Lisa working in Kamloops, Deenie is more than full time at the shop. One favourite part of running the business is going to the buyer shows in Toronto. "The challenge is to keep focused on what Revelstoke needs, and what customers want, yet finding new and interesting gadgets that will appeal to people and still maintain good quality and value for the dollar." Covering 1.5 million square feet of booths in four days makes it hectic, and Deenie always takes one staff person along with her, to have someone to compare notes with and help keep track of the thousands of possible items.
What she's on the lookout for this year are eco products. We'll keep you posted on what she finds