By David F. Rooney
I don't know about you, but I always appreciate the lengths — within reason — that people go to in order to visually celebrate the Christmas season. In particular, I love the outdoor lights.
There are always a few people who go overboard — although I haven't seen any here in Revelstoke. You've probably seen the ones I mean on TV: monster homes that burn 100 gigawatts of energy every night in support of hyper-Christmas light displays and dioramas. I pity their neighbours who have to put up with the over-use of light and the endless stream of traffic.
Fortunately we don't have any such mind-blowingly gaudy and ostentatious displays. But we do have some pretty nice light shows here as I discovered when I spent a couple of nights this week driving around the city, stopping here and there to set up my camera and tripod and capture them for your enjoyment. You'll notice several photos of trees with lights. I've always been particularly attracted to lights in trees. That goes back to my teen years in Cali, Colombia, where every year municipal workers would string lights in the lovely trees that covered the one of the largest parks in the city. Thousand sof people would descend on the park at night to stroll beneath the glowing trees, stopping here and there for something to eat or to purchase small toys from the street vendors.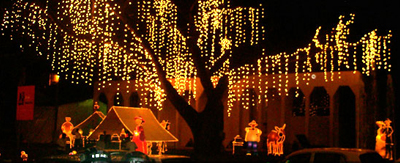 Of course, it's not the balmy 25° Celsius that you can enjoy any December evening in Cali. It's a lot more like -25° when the wind is gusting, which it has been lately. Still, if you care to get out for a stroll through your own neighbourhood or hop in the car for a short drive around Revelstoke you, too, can see some of the magic that Christmas lights impart to our dark winter nights.
Merry Christmas!