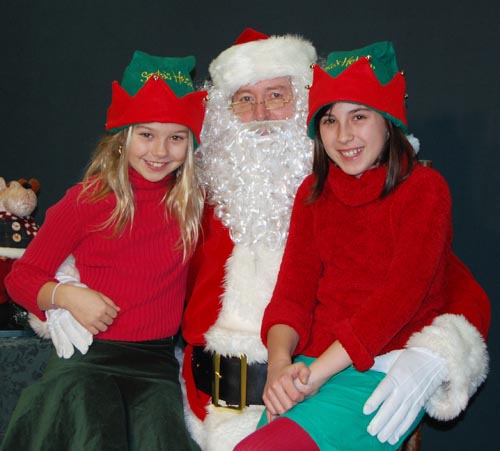 By David F. Rooney
It's a little-known fact, but Santa Claus loves animals, and the big guy came to town on Saturday especially to meet some of his furry, and even not-so-furry, friends at the annual Revelstoke and District Humane Society's pose-your-pet-with-Santa fund-raiser.
Almost all of the animals that people (and there were 95 of them) brought to meet the Big Guy were dogs this year, although there were also a love bird, a Guinea pig and a cat. But this year — somewhat to Santa's relief, although he'd never officially admit it — there were no snakes, lizards, rats or tarantulas.
"I had a lizard last year," Santa said with a discrete shudder. "But no snakes or tarantulas."
He did have a few rats a couple of years ago and while they were quiet and well-behaved one of his helpers at the time didn't react well to them. "She ran out of the room," whispered a volunteer.
This year's helpers, two young elves from Arrow Heights Elementary School named Sammy Legebokow and Lainey Thur, were exceptionally diligent in helping keep all the easily distracted puppies focused on the camera by squeezing a variety of squeaky toys and helping dispense dog biscuits.
RDHS volunteer Llewanda Halldorson said the annual event "is very important in helping raise our public profile." It reminds people that there is a Humane Society in the city and that it cares for all kinds of distressed, abandoned and abused animals. But the Humane Society does struggle along on a shoestring budget so all the money it manages to raise is important. This year it raised at least $500 at this event.
And what was it like? Well, as you can see from the following photos Santa Claus met all kinds of interesting pets: