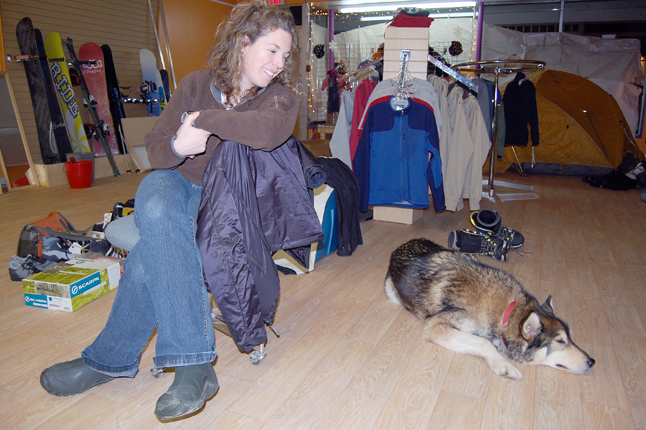 By David F. Rooney
Anne-Marie Lefaivre knows she has a great location for her new business venture, Back On The Rack, now she needs to finish a few things up and she'll open her shop for business this Saturday offering budget-minded skiers, boarders and skaters sports clothing and gear on consignment.
"We'll be offering all kinds of sporting goods," Lefaivre said in an interview on Wednesday afternoon. "Kayaks, bikes, camping equipment, hockey gear, skis, snowboards — just about everything."
Lefaivre and Morrison, who is in the process of moving here from Kamloops, have been friends for years and always wanted to go into business together, and so Back on the Rack was born.
Lefaivre and Morrison have big plans for their store, which is located at 300 First Street West (the old Sears store location). A climbing wall is being installed in the back, there will be a lounge area where shoppers can chill out with a coffee and check their e-mail and, of course, lot of things to choose from.
"It was a real challenge to find just the right space," Lefaivre said. "Then we found this place and it's perfect."
But you can see for yourself when Back on the Rack opens to the public on Saturday, Dec. 19.
The shop's hours are 10 am until 6 pm Monday through Saturday and Lefaivre said it may be kept open later on Thursdays, Fridays and Saturdays.
You can contact Back on the Rack at 250-837-5600 or by e-mail at backontherackbc@yahoo.ca.