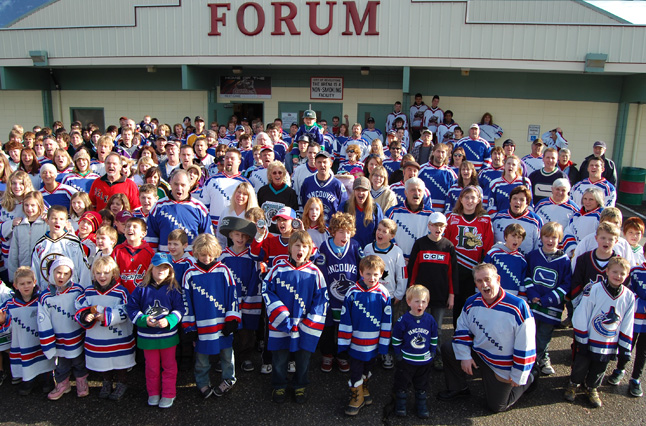 By David F. Rooney
Hockeyville. It's fast becoming one of the most coveted titles in Canadian hockey largely, perhaps, because it generates waves of grassroots public support for the home-town aspect of Canada's real national sport. And that emotional wave roared into Revelstoke Sunday as hundreds of people turned out for the start of the Revelstoke Hockeyville 2010 campaign.
"Hockey is a game that appeals to people of all ages and all levels of society," Revelstoke Hockeyville 2010 Chairman Gary McLaughlin said in an interview after a photo session involving that crowd of supporters, many of who were wearing jerseys generously donated by the Revelstoke Minor Hockey Association. "We believe we have what it takes to win Hockeyville 2010 status."
After photographer Kip Wiley took a group photo of supporters (see the photo below), there was another photo shoot inside the Forum (see photo below). There, John Macko, who was a defenceman for the Revelstoke Selkirks back in the 1970s, faced off against Matt Cadden, a your player on the Revelstoke Minor Hockey Association's Novice team. The face-off clearly symbolized the cross-generational appeal of hockey in Revelstoke.
The campaign has gathered steady and strong forward momentum since it began almost two weeks ago. There are now 959 official supporters who have signed on to the committee's Facebook page, which is at http://www.facebook.com/group.php?gid=155104665479&ref=mf, and there are doubtless hundreds more who think it would be a boon to the community as whole. Besides $100,000 in upgrades to its local arena, the winning community plays host to a 2010-2011 pre-season NHL game. Four runners-up will receive $25,000 each for arena upgrades. The contest is sponsored by Kraft, the National Hockey League and the CBC.
Of course, there are nay-sayers. Some people think that Revelstoke would not be allowed to win because it is in British Columbia and Terrace won the coveted Hockeyville status last year. The other Hockeyville towns are Terrace, Roberval, Que. (2008), North Bay, Ont. (2007) and Salmon River, N.S. (2006). But others point out that any whiff of favouritism or a pre-determined outcome would doom the competition.
The outcome is really up to the people who love hockey and who follow the competition between the top Hockeyville contenders because it is their votes that determine the outcome.
According to a Hockeville news release issued on Friday there has been a "significant change" to the Kraft Hockeyville competition.
"This year, there are two additional wild card opportunities (four in total)," said the statement, which was posted online at the NHL's website at http://www.nhl.com/ice/news.htm?id=504122.
"Each of the four regions (Atlantic, Québec, Ontario, West) will have their own wild card increasing the likelihood of your community's chance to win. The judges will select a total of 12 submissions from all the entries (up from 10 last year). Canadians will vote for their top five submissions from the list of twelve."