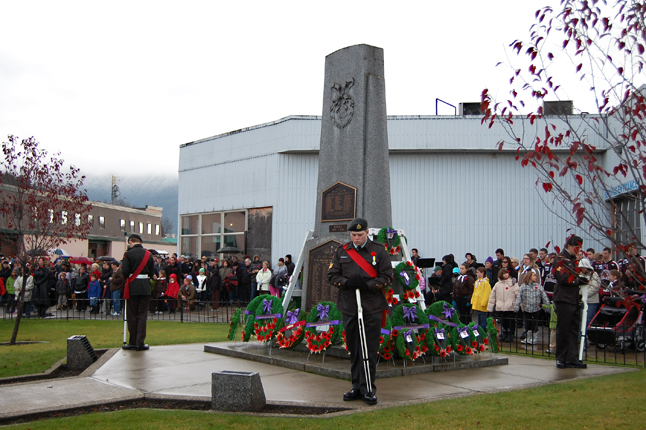 By David F. Rooney
Hundreds of Revelstokians gathered on a damp and chilly Wednesday morning to honour their war dead with wreaths, prayers and, here and there, a tear.
After every conflict… we hope to say, 'Never again, never again,'"said Sue Driediger, president of Royal Canadian Legion Branch 46, as she addressed the crowd of about 1,000 people. "These are difficult words to say."
But regardless of the fact that war and terror seem to be a constant part of the human condition she said "there is a tremendous power in memory" as it helps correct mistakes and remember the sacrifices of those who have fought to preserve our freedom and destroy evil in the world.
Despite problems with the PA system Mayor David Raven said Revelstoke, "like every other community in Canada honours those who have fallen in the defence of freedom" and Legion Chaplain Marlene MacQuarrie asked God to protect our community's young people from "the war, violence, terror and confusion" that sometimes seems to fill the world.
But as people prayed and bowed their heads in a silence broken only by the sounding of a CPR train whistle in its own tribute to the fallen, they did so knowing that hope, love, faith and beauty remain in the world, thanks to the sacrifices made by our brave soldiers, sailors and air crews in the two World Wars, the Korean War, the Afghan War and UN peacekeeping missions around the world.
Here are some images from the day's ceremony: