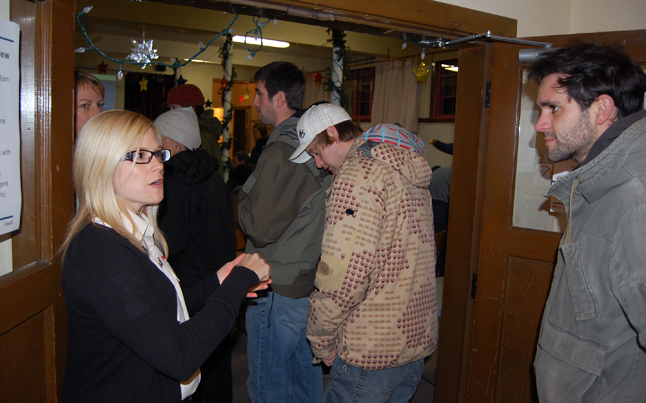 By David F. Rooney
Parks Canada, eager to "create something more innovative," packed the first of three local orientation meetings about its backcountry winter permit system by offering permits to everyone who attended, signed waivers and agreed to certain conditions.
"This approach was actually suggested at one of the meetings we held earlier in the year," said Marnie Digiandomenico, a spokeswoman for Mount Revelstoke and Glacier National Parks. "We've listened and we've since done a lot of work getting this ready."
Until now, backcountry skiing and boarding enthusiasts had to drive all the way to the Rogers Pass Discovery Centre to get a permit. Now, people who attend the orientation meetings, agree to a Waiver of Liability and Indemnity Agreement and accept specific terms and conditions will get free ones.
The approach appears to be working. A single meeting in Golden that Parks staff thought might attract 80 people had to be repeated after more than 140 people tried to get into the first session.
The winter permit system allows backcountry users to enter Winter Restricted Areas affected by the highway avalanche program when artillery gunfire is not anticipated. This system protects the public from danger resulting from direct artillery fire, including shrapnel that can travel up to 1,000 metres and the potential for sympathetic avalanche releases.
For more detailed information about the winter permit system please read Alice Weber's highly informative story, Important changes to the winter permit system in Glacier National Park, located at https://legacy.revelstokecurrent.com//2009/11/13/important-changes-to-the-winter-permit-system-in-glacier-national-park.
Digiandomenico said there will be two more meetings in Revelstoke. One on Dec. 1 and the second on Dec. 15. Both will be at the United Church at 7 pm. Orientation sessions will also be available at the Rogers Pass Discovery Centre on Thursdays and Saturdays at 3 pm, starting on Nov. 28. For more information please call the Parks Canada office in Revelstoke at 250-837-7500.