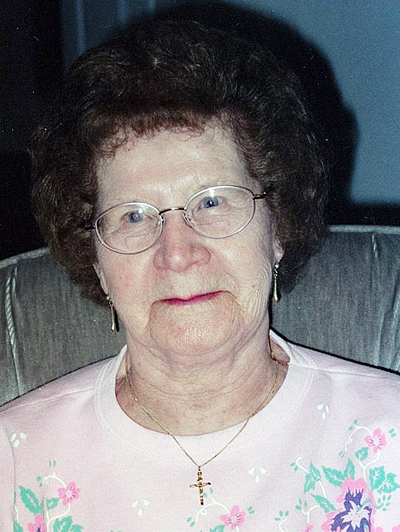 Margaret Taylor passed away at Mt. Cartier Court Extended Care, Revelstoke on Wednesday, November 25th, 2009 at the age of 96 years.  A Mass of Christian Burial will be held from St. Francis of Assisi Catholic Church, Revelstoke on Friday morning, December 4th, at 11:00 a.m. with Father Ronnie Tagnines celebrant.  Cremation with interment of the cremated remains to follow in the family plot of Mountain View Cemetery, Revelstoke.  In lieu of flowers, memorial contributions may be made to the charity of one's choice, in memory of Margaret.
Margaret was born in Cardiff, Alberta, on March 11, 1913 and had been a resident of Revelstoke since 1955.  She was an "Avon Lady" for many years and and will be well remembered for this.  Margaret had a passion for bowling and in her earlier years she also enjoyed curling.  Over the years she was very active with the C.N.I.B.
Margaret was predeceased by her son Lorne in 1985, husband Bruce in 1995, daughter-in-law Marcella in 1998 and grandson Troy in 2001.  She is survived by two sons: Ron (Kathy) of Revelstoke and Dave (Judy Walker) of Edmonton; daughter-in-law, Susie Taylor of Kamloops; grandchildren: Bruce (Gayle) Taylor of Edmonton, Debbie Taylor (Doug Jakubec) of Edmonton and Sheryl Taylor of Revelstoke; granddaughter-in-law Gina Greenwald of Edmonton; great grandchildren: Amanda Taylor, Tamara Taylor and Myles Taylor.
Arrangements are in the care of Brandon Bowers Funeral Home, Revelstoke.