Editor's Note:
Columbia River-Revelstoke MLA and life-long hockey fan Norm Macdonald has joined the quest to designate Revelstoke as Hockeyville. Supporters of Revelstoke's bid have been submitting stories about hockey and Revelstoke to prove the community's commitment to winning this contest. Here is Macdonald's story:
Revelstoke IS Hockeyville
By MLA Norm Macdonald, Columbia River-Revelstoke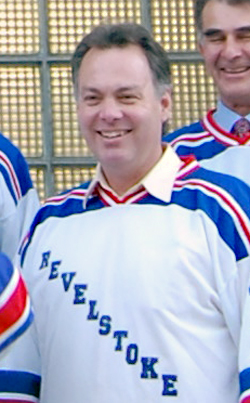 There are few Canadians who have not spent much of their lives immersed in hockey.
I was raised in Winnipeg where hockey is practically a religion.  And I grew up at a time when outdoor rinks were common and playing street hockey was a full-time pursuit beginning in November right through to the end of March.
I took that passion for hockey with me into adulthood.  When I moved to the Kootenays I continued to play hockey in the adult recreational league.  Hockey gave me fitness, good friends and the fun that comes from playing a truly beautiful game.
I remember travelling to a hockey tournament in Revelstoke with my team from Golden a number of years ago.  We played at the Revelstoke Forum, one of the area's great old arenas.  We enjoyed a weekend that an awful lot of Canadian men would recognize.
It was a weekend of too many guys stuffed in a motel room filled with the unique smell of half-dried hockey equipment.  We had the experience of putting on cold, wet equipment for the third game of the day.  And we had a night at the Big Eddy pub where we did not exactly keep our commitment to have an early night.  As a result, we struggled to get up early for that playoff game the next morning.
This is my memory of hockey in Revelstoke, a memory I share with all my teammates.
Now, as the MLA for Columbia River-Revelstoke, I have the privilege of representing this community in the provincial legislature.  I can say with conviction that hockey is celebrated in Revelstoke by both young and old.
To me, Revelstoke is Hockeyville in every sense.
Submitted to the Kraft Hockeyville 2010 website on November 18, 2009.