By David F. Rooney
He's a well-known, albeit now-retired, English teacher, an extremely good and in-demand musician, a world-class fly-tyer and avid fisherman and at long last John Baker can add another qualification to his résumé: published author.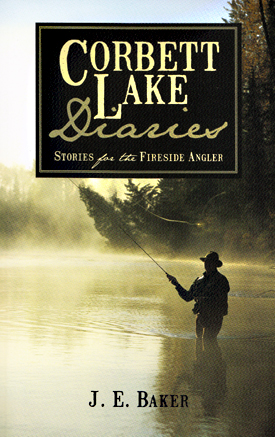 Baker has just published a collection of short stories and essays entitled Corbett Lake Diaries, which is sure to appeal to anyone who either:
a) enjoys fishing, or
b) appreciates thoughtful writing.
"I always felt like a bit of a hypocrite," he said in an interview. "I spent my entire career telling students how to write without producing something of my own."
Baker can now bury that minor hypocrisy. Corbett Lake Diaries is a fine piece of writing. The book is a compilation of original short stories and essays on fishing, fly-tying and nature. The original manuscript was written with, of all things,  a fountain pen during downtime at the Corbett Lake Lodge where Baker spent many, many, many happy hours over the last few decades as an angler.
"It was really interesting to meet all of the different people who went through there: CEOs, hockey players, scientists, musicians, writers, neurosurgeons and TV personalities. But that's all gone now… it's done."
The lodge, which is on Corbett Lake near Merritt has been stratified. It's cabins have been sold and the main lodge, a magnificent log structure with a classic rock fireplace, has been turned into a clubhouse and bar.
Baker understands the reasoning behind the sale and stratification but he shakes his head. The book is, in many ways, an epitaph for an iconic Canadian fishing lodge. In fact, he even foresaw its fate. But being prescient is cold comfort.
A way of life in the southern Interior is slowly disappearing. Even many of Baker's fishing buddies have pulled up stakes and gone north towards Smithers where the kind of development that prompts the stratification of classic lodges has yet to arrive.
Baker's excellent little book is on sale at Grizzly Books, Chapters and, in the United States, at Barnes & Noble. Revelstokians who'd like to purchase a signed copy of Corbett Lake Diaries can do so at the No Host Bazaar on Dec. 6 when Baker will be signing copies of his book.
For more information about the book please e-mail John Baker at jbflies@telus.net or drop by and see him at the No-Host Bazaar.
Corbett Lake Diaries, by John Baker, published by iUniverse, 132 pages.