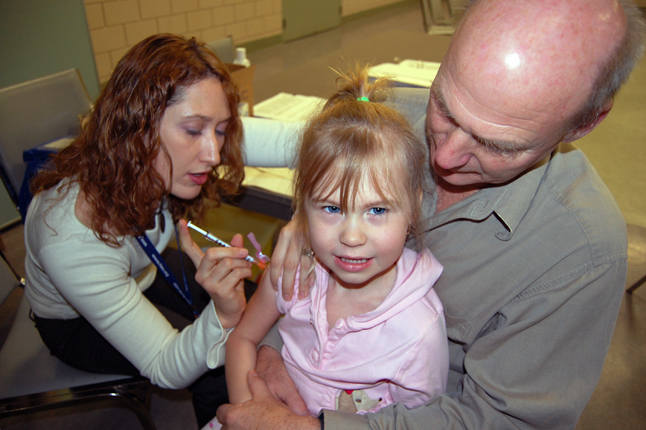 By David F. Rooney
Hundreds of people lined up at the Community Centre this morning for H1N1 flu shots.
"I came to work early this morning for some reason and there were already people lined up at 7:45," Community Centre staffer Heather Duchman said.
The clinic opened its doors at 9 a.m. and by 9:15 there were about 300 people in line. By 9:45 the line had doubled back on itself.
"When we first got here at about 8:20 they down the line and picked out all the people who looked like they were over 65 or older," said Kristel Barnes as she waited with her young children for flu shots. "We've only moved about 20 feet in like an hour and 20 minutes."
The lineup may have been slow but its movement was steady. Still, some people wondered if there was enough vaccine for everyone.
"I don't want to get a shot but I get bronchial pneumonia every year so I can't really take any chances," said Cliff Shultz as he waited about three quarter of the way down the line. "I just hope there's enough."
There were a lot of parents in line with children who were, for the most pretty well controlled. But some really didn't want to get a flu shot. One young boy even tried to run away and a few others shed a few tears after feeling the needle.
Young Lauryn Kline didn't cry, though. Cradled in the arms of her grandfather, Alan Chell, she had the lucky distraction of my camera to hold her attention.
"Thanks for that," Chell said afterwards.
Here's another shot of the lineup: