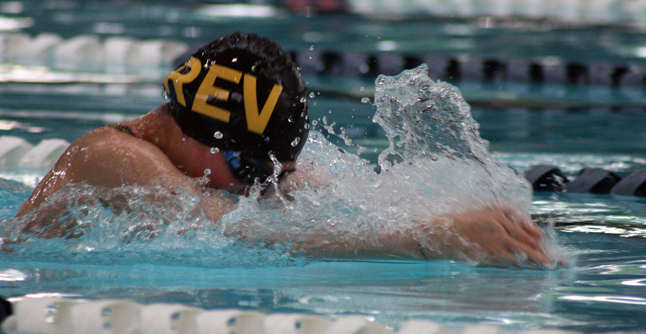 Gold was the metal of choice for RSS Swimmers this past weekend as they swam their way onto the podium at the BC high school provincial swimming championships in Richmond. Leading the charge was Grade 12's Cynthia Pfeiffer who finished her high school swimming career in style with two gold medals and a silver thrown in for good measure.
To say that the swim meet started well for RSS is like saying it snows a bit in Revelstoke.  In the very first event, the girls 200m Medley Relay, Revelstoke Secondary School set the tone and swam their way to a gold medal finish.  In the relay, Cynthia Pfeiffer started strongly and had the team in the lead after her opening backstroke leg. Second swimmer Christina Hui timed her relay takeover perfectly as she hit the water and kept the team in the lead with her breaststroke. Then junior swimmers Hanna Thomson and Emily Pfeiffer pushed hard to the wall and held off the competition to finish first in the province.
The first gold medal seemed to be almost contagious as Cynthia then followed it up with a silver place finish in the 50m Backstroke.  And to bookend the swim meet with gold on either side, Pfeiffer came from behind in the last 5 meters to surprise even herself as she once again earned a gold medal in the 100m Individual Medley.
The provincial championships mark the end of the high school swim season.  And with the strength of younger swimmers on display with their first place finish in the medley relay, the future of RSS swimming continues to shine as brightly as the gold medals around their necks.
Full Results
1st 200m Medley Relay 2:16.90 (Cynthia Pfeiffer, Christina Hui, Hanna Thomson, Emily Pfeiffer)
13th 200m Free Relay 2:20.06 (Hanna Thomson, Christina Hui, Kathryn Hui, Emily Federico)
1st Cynthia Pfeiffer 1:13.81 100m Individual Medley
2nd Cynthia Pfeiffer 32.87 50m Backstroke
4th Cynthia Pfeiffer 29.67 50m Freestyle
6th Emily Pfeiffer 1:18.37 100m Individual Medley
20th Emily Pfeiffer 36.85 50m Backstroke
10th Christina Hui 40.52 50m Breaststroke
25th Hanna Thomson 35.84 50m Butterfly
Here's an image of the team mugging for the camera after the medals presentation:
Submitted by the RSS Athletics Department