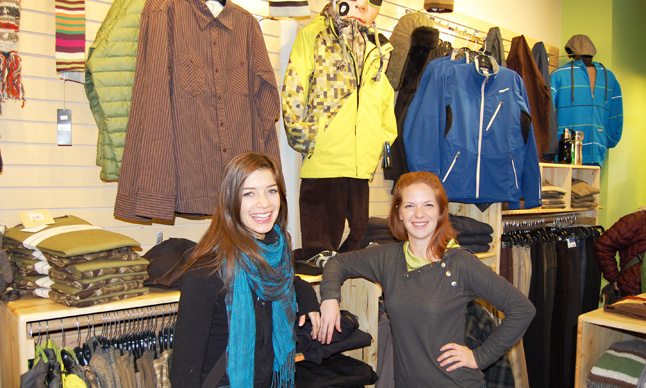 By David F. Rooney
The newest clothing store in town, Wearabouts, brings new lines of high-quality casual clothing to the Revelstoke market.
The store, the third to be opened by the Salmon Arm-based chain, unlocked its doors for the first time this week and offers a wide range of men's and women's clothing in what manager Wendy Hardy said is a wide range of prices.
"We're not into gear so much," she said in an interview on Saturday. "We're a life style store."
With a wide variety of products from Helly Hansen, Chlorophyll, Merrill, Keene, Orage, Smartwool and other lines, the store has been kept busy since it opened.
"We also have lots of locally-made products like water bottles from Watergeeks in Kelowna," Hardy said. "We're offering good quality products in a range of price points. We have something for just about anyone."
Wearabouts was started about 16 years ago by Colleen Moore and her daughter Donna Blackburn in Salmon Arm. It opened a second store in Vernon three years ago, which Hardy also manages, and now the Revelstoke shop.
Besides offering consumers attractive clothing, Wearabouts also functions as a centre for the Moore family's K3 Cat skiing operation. K3 has a tenure in the Monashees between Revelstoke and Sicamous.
Wearabouts is open Monday through Friday from 9:30 a.m. until 6:30 p.m., on Saturdays from 9:30 a.m. until 5:30 p.m. and on Sundays from 10 a.m. until 4 p.m. It does not yet have a website, although Hardy said that is in the works. Wearabouts can be reached by phone at 250-837-4441 and K3, which does have a website at www.k3catski.com, can be reached at 250-837-5100. The e-mail address for Wearabouts is wearaboutsrev@gmail.com.
.