By David F. Rooney
If you believe that as a community we owe it to others — and, eventually, ourselves — to help friends, neighbours and families cope with serious illnesses and death then you should pencil in the Oct. 17 Voices for Hospice concert on your calendar.
According to Brenda Kessler, the Revelstoke Hospice Society's executive director, Voices for Hospice is a wave of concerts around the globe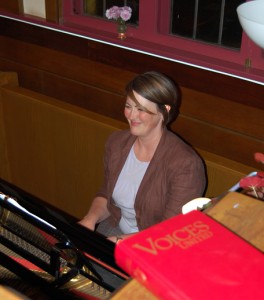 that takes place every two years. The event being held on Sat. Oct. 17, at the United Church, will use voices to raise funds and awareness for hospice care here in Revelstoke.
"Music has the capacity to breathe emotion into the soul," she said in a statement. "The mission of hospice is to provide heartfelt support to those coping with a life-threatening illness. Music and hospice harmonize well."
They do more than that. They give us hope and feed our desire for something good in life. All you have to do is hear the love and joy in the voices of the men and women who will be singing in the 7 p.m. concert (If you'd like to hear what they sound like, click here — http://www.youtube.com/watch?v=AePCJ_8lVXQ — to watch and listen to them sing Many Gifts, One Spirit by Allen Pote.  There's a purity and devotion to their two-part mixed chorus with keyboard accompaniment by Lida Carey that is difficult to match.
Concert goers on Oct. 17 will enjoy a diverse range of music with something guaranteed to please everyone. "Through acts of kindness, the program includes singing by the Selkirk Singers, Revelstoke Community Choir, the Alpine Drifters, Steve Smith, Sharon Shook and others," Kessler said. The concert is being produced by Robyn Abear.
If you would like more information about this extremely worthwhile benefit please call 250-814-8483 or send an e-mail to revhosp@telus.net. Tickets are $10 and are available at the Community Centre, Inspiration Gifts, the Hospice Society office and at the door.