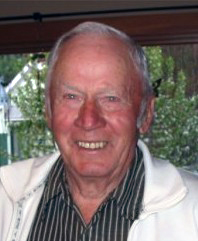 Mr. Douglas Hillier passed away at Queen Victoria Hospital, Revelstoke on Sunday, October 11th, 2009 at the age of 86 years.  A Memorial Service was held from the Chapel of Brandon Bowers Funeral Home, Revelstoke on Thursday afternoon, October 15th with family and friends presiding.  Cremation.  In lieu of flowers, memorial contributions may be made to the Canadian Cancer Society, 1633 Pandosy Street, Kelowna, B.C. V1Y 1P6, in memory of Douglas.
Doug was born in Southey, Saskatchewan on November 9, 1922 and had been a resident of Revelstoke since 1999.  Most of his married life, he lived in Port Coquitlam along with his wife Sue where they raised their family.  Doug was a veteran of World War 2, having served overseas at Normandy.  Doug loved to walk and this was evidenced by the fact he did the Terry Fox Run for the last 25 years.  He also was recognized by the Governor General for donating blood more than 100 times.  Doug enjoyed camping and working in his vegetable garden and he had a great sense of humour.
Doug was predeceased by his wife Sue in 1996, his son Gary in 1989 and two brothers, Jack Hillier and Allan Hillier.  He is survived by two daughters: Sharan Gilbert (Doug Blakley) and Arlene (Gary) Dieleman, all of Revelstoke; five grandchildren: Larissa, Lindsay, Eric, Lauren and Christy; five great grandchildren: Van, Damien, Carter, Pallas and Cedar; three sisters: Betty (Ross) Haines of Regina, Kathleen (Bill) Henshaw of Southey, Saskatchewan and Ruth (Harold) Mathews of Vaughn, Washington as well as numerous nieces and nephews.
Messages of condolence may be sent to brandonbowers@telus.net or via our website at brandonbowersfuneralhome.com.
Arrangements were in the care of Brandon Bowers Funeral Home, Revelstoke.