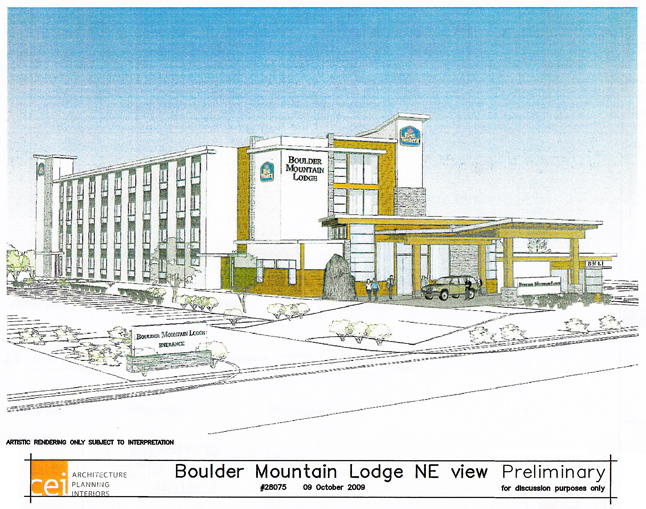 By David F. Rooney
The City is prepared to grant the Revelstoke Land & Development Co. Ltd. a permit to develop a 4.5-storey hotel at the intersection of Pearkes Drive and Laforme Boulevard.
Meeting as a Committee of the Whole (COW), Councillors and Mayor Dave Raven approved the development permit in principle. The COW is a procedural device that allows City Council and opportunity discuss issues in the open and indicate the direction they are leaning towards on the issues before them without make binding decisions.
The hotel, to be named the Boulder Mountain Lodge, will be a Best Western. The Best Western franchise in Revelstoke is owned by the Beruschi family.
The permit clears the way for further work on this project but does not permit construction to begin. A building permit is a separate document.
Council agreed that the development permit should be granted provided the development company provides the City with a letter of credit for landscaping work, it confirms the kind of exterior lighting system it plans on using on the outside of the building, it provides a a copy of  a development servicing agreement for off-site services, it consolidates its properties at 1915 and 1925 Laforme Boulevard and 1925 Laforme is rezoned from CD7 to C4. CD7 is a Comprehensive Development Zone. C4 is the Highway Commercial District.
The company has two years to "substantially complete the development" after the permit is granted or it will be voided.