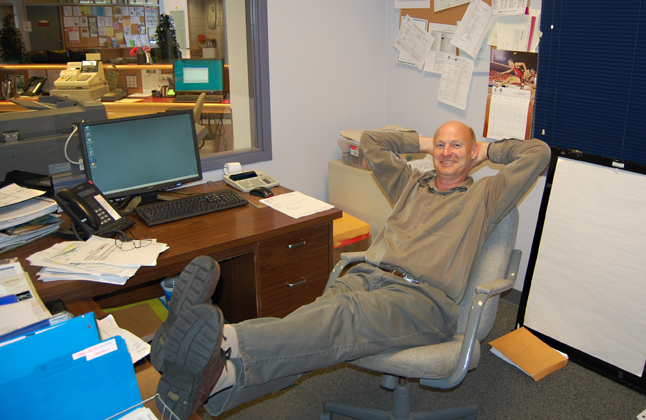 By David F. Rooney
He's the kind of guy who is always doing something worthwhile for the community — school board chairman, Glacier Challenge chairman, community musical producer, facilitator, soccer coach and so on — but come the end of January Alan Chell can scratch going to the office from his long list of daily must-do chores.
That's when Chell calls it a day and retires from municipal service. However, can you picture Alan Chell kicking back and doing nothing? No way!
"I'm looking forward to doing more volunteer stuff in the community and spending more time with my grandchildren (of which he has three with a fourth on the way)," he said in an interview on Wednesday.
Well, he'll be busier than that, of course. The almost-55-year-old will remain chairman of the School District 19 Board of Trustees and says he'll run again in the next election. He'll also remain active with the BC Public School Employers Association of which he is vice-chairman and he is now on the Provincial Superannuation Board. Chell will continue to coach children's soccer and when there's a new one will remain involved with Revelstoke's hugely successful series of community musicals. Although he is stepping down as chairman of the annual Glacier Challenge (he's being replaced by Brad Bierling), he plans to continue his involvement with that major summer event. And he'll doubtless remain in demand as a facilitator.
So it's not as though Chell's going to vanish into the woodwork. Not a chance.
But 55? Isn't that a little young for retirement?
"How it works in the municipal field is the most earning years you can have is 35 and the earliest you can retire is 55," Chell said, adding that he turns 55 in November. "Everything's worked out for me."
His years of service have also worked out well for Revelstoke. Chell has been a key figure in many of the developments we've seen over the last two decades.
"Some of the things I'm most proud of have been the Aquatic Centre and our many community events, especially some of the special celebrations like Homecoming, the community musicals and the BC Winter Games," he said, adding that he has no regrets about anything and is particularly pleased to see the way the City has renamed his position. It's no longer just Director of Parks and Recreation, but Director of Recreation, Culture and Special Events. You can see the City's ad for his position by clicking here: https://legacy.revelstokecurrent.com//wp-content/uploads/2009/09/online-ad-city-sept.pdf.
"I'm thrilled with the slight change in focus," Chell said. "Council gets it."
That "slight change in focus" reflects the changing nature of Revelstoke. City government can no longer be content to simply manicure the parks and organize or schedule recreational events. The City now actively works with other organizations in the community to attract visitors and raise the bar when it comes to cultural activities and major special events. It has done so for a few years now and the change in title recognizes and reinforces that shift.
Chell says he may be asked to review some of the applications from people who want to fill his position but that will be all; he won't get to hire his own successor.
Of course, his shoes may be hard to fill. If the City can't find a replacement he'll talk with Chief Administrative Officer Ross McPhee, Mayor David Raven and City Council about alternatives.
Enjoy your retirement when it comes, Alan. You've earned it.