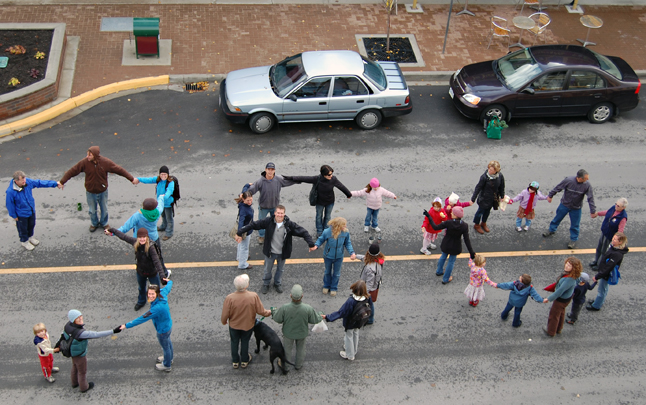 By David F. Rooney
You could hardly call it a mass demonstration — it was, after all, just 30 people if you included the seven children who participated — but you could not fault their willingness to make their views known during Saturday's International Day of Climate Action demonstration in downtown Revelstoke.
The demonstration, organized by the North Columbia Environmental Society, was one of about 4,000 held Saturday in 174 countries, according to Nicki Nattress.
During the civic action a small crowd gathered in the middle of Mackenzie Avenue just a few metres west of the intersection with First Street to form a large 350. (You can see a brief video of the demo at http://www.youtube.com/watch?v=zCgssoojp80)
Nattress said the 350 represents the 350 parts per million (ppm) of carbon dioxide that many scientists believe is the maximum amount of CO2 out atmosphere can sustain. The current ratio of CO2 in the atmosphere is about 390 ppm and many people concerned about what is happening to our global climate want world leaders to commit themselves to bringing the CO2 level down to 350 ppm.
NCES President Sarah Newton, Nattress and other members maintained a table outside the Modern Bakery Saturday baker, explaining the purpose of the demo and handing out postcards of the glaciers near Revelstoke that they hoped people would use to write Prime Minister Stephen Harper asking him to support a commitment to lower greenhouse gas levels and enact other major steps to fight climate change at the Copenhagen round of climate change negotiations in December.
If you think climate change is a major issue and that Canada should take concrete action to fight it you, too, can write the Prime Minister Harper. Send him a postcard briefly outlining your views and request and send it, postage-free, to Prime Minister Stephen Harper, Office of the Prime Minister, 80 Wellington Street, Ottawa, Ontario, K1A 0A2.