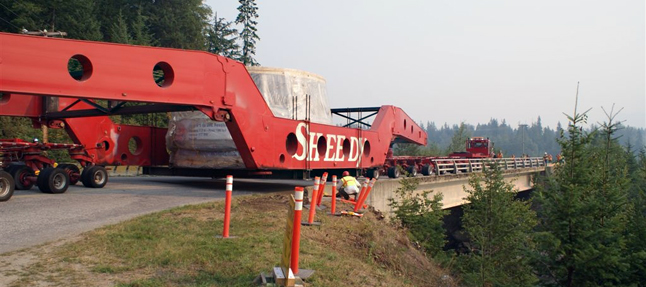 BC Hydro's 188-ton turbine completed its 12,000-kilometre journey here from Brazil by threading the eye of a needle — the 100-metre-long tunnel carved through the canyon wall to the entrance of the Revelstoke Generating Station.
"The transport of the Revelstoke Unit 5 turbine took over a year to plan" Ken McKenzie, BC Hydro's project director, said in a statement today. "The weight and size of the 188-ton turbine made it a challenge to move and there were a number of obstacles to overcome including navigating sections of rapids on the Columbia River downstream from Trail and transporting the turbine through the approximately 100 metre-long tunnel through the canyon wall along the access road to the Revelstoke Generating Station powerhouse."
The following photos show the last stages of the turbine's odyssey.