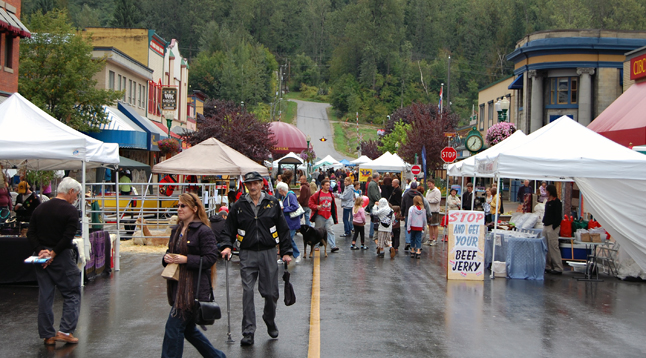 By David F. Rooney
While there as no way to accurately quantify the number of people who came downtown for Saturday's New Moon Over Mackenzie festival, it appeared likely that at least 1,000 Revelstokians decided to brave the light rain and celebrate the city's great new look.
"We learned a lot from this event," said John Devitt, the Chamber of Commerce's executive director. "If we do it again we'll do some things a little differently."
The biggest problem was the lack of action on parts of First and Second Street. Some merchants on those streets simply didn't appear to get involved in the New Moon Over Mackenzie concept. Their doors were open but many didn't do anything special to usher customers inside.
But if this event is repeated it should not be altered too much. By and large this event was a hit with retailers and consumers even though it rained, albeit lightly, all morning and part of the afternoon. But of ocurse, local people take the weather as it comes. These are the mountains. It is the beginning of autumn. And people who live here generally don't mind the rain… too much.
"If an event like this could be organized every month it would be brilliant!" exclaimed Jen Rogers at Castle Joe Books.
She said the shop, which she was minding in the afternoon, experienced a significant increase in sales due to the large number of people who were drawn downtown for the music, lively sidewalk sales and the general festivities.
And there were plenty of people about. The Just 4 Dogs event alone drew scores of people with their dogs to the empty lot behind City Hall to shop for canine treats and toys, see how their pets fared in various contests and to watch the avalanche rescue dogs make their way through an obstacle course.
The music was a major draw. Significant crowds listened to Havok Way, The Rev and the Maritime Kitchen Band and some even danced in the street.
Janet Pearson of the Talisman Trading and Fibre Company said she had people in her store all day, too, and attributed it to the festival.
"It's been good," she said. "We're moving a lot of our on-sale merchandise."
Two doors down at Chantilly Kitchen, Bed & Bath, Terese Elsom said it was "nice to have people out on Mackenzie using it the way it should be used." She especially liked having the drumming workshop right across from the store.
The sales on offer around town seemed to be prompting a lot of people to reach for their wallets.
"I went into Pharmasave to spend maybe $30 but I dropped $80," said Cindy Prcevich. " I bought $20 frames for $5, an excellent makeup brush set and several interesting books that I have not read at a very good price."
Walk into virtually any store on Mackenzie and many on First and Second Streets and you encountered people browsing and spending money.
Not everyone made out like a bandit, however. David Evans of the Nickelodeon Museum of Mechanical Musical Instruments said he didn't notice an increase in paying customers but he shrugged it off as he ground an organ to the delight of passersby.
"Sometimes you just have to spread bread upon the waters and see what happens," he smiled.
Here are some of the things you might have seen when you were downtown.