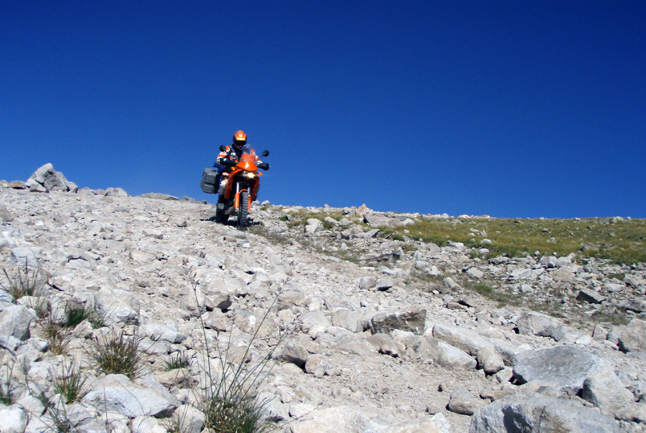 By David F. Rooney
The last we heard from Rich Hamilton and Gary DeBlock, the adventurous motorcyclists they were in a cliff-hanger: surrounded by howling wolves on a bitter night in Union Pass, Wyoming.
Okay. Maybe it wasn't exactly a cliff-hanger; after all, Hamilton managed to call later to regale us with the details. But the two local men certainly did have a real adventure. The wolves were real and so was the rest of their journey through high country desert and ghost towns, past antelope herds and radioactive sites. But they made it back and they have the pictures to prove it, 16 of which are published here in The Revelstoke Current.
The two men travelled more than 11,000 kilometres in their journey across the continent on a pair of  KTM 640 Adventurers, which are 640cc enduro-style bikes that carry 28 litres of fuel. The bikes, which are a favourite of serious continental-scale, cross-country racers, were a great choice — "flawless, really," according to DeBlock. Hamilton said he experienced no mechanical trouble until he was waiting in the vehicle lineup to cross back into Canada at the end of his trip. "I got a flat and had to take the wheel off and hitchhike back to the nearest town to get it fixed and then hitch back before I could cross the border," he said.
In an interview at the Modern Bakery on Monday, the duo looked fit, tanned and relaxed after their odyssey.
"It was a great trip," Hamilton said. "The Americans we met were awesomely friendly."
So friendly, in fact, that at the U.S.-Mexico border, an American border patrolman saw them ride up and then came out and handed them some icy-cold Popsicles. The Mexicans at the border weren't quite as agreeable.
"The Mexicans at the border were silent," DeBlock said. "They didn't say anything except to demand 500 pesos for a visa."
But, despite their initial plans to grab a taco and beer in Mexico, the pair didn't cross the frontier.
"When we got there, the Americans told us they close the border every evening and we could be stuck in Mexico," Hamilton said. "They said we really wouldn't want to spend the night out there."
The scale of the deserts they crossed greatly impressed the two men.
"It's so desolate," DeBlock said. "Hundreds and hundreds of thousands of acres of nothing — just desert."
But there was life in the desolation. They saw herds of antelope, wild horses, donkeys and mules, birds and, of course, sage brush — lots and lots of sagebrush.
"The most prevalent plant in the U.S. has to be the sagebrush," Hamilton said. "It was everywhere as far as the eye could see."
The men endured real cold camping out at 13,000 feet, howling wolves one night in Union Pass, Wyoming, and days of riding through clouds of bitter dust in 40° C heat and a ghost town in Nevada. And then there were odd things like coming to a town in Utah which boasted an open-pit mine and radiation warning signs and, everywhere they went, people who knew about Revelstoke.
"All through the trip we met people who'd been here or who knew people here," Hamilton said. "It's such a small world."
DeBlock and Hamilton ended their trip in California and made their way separately back to the green and verdant mountains of home.
"Man, it felt good to see all that green," DeBlock said.
Amen.
Here are some of the sights Hamilton and DeBlock enjoyed on their journey: