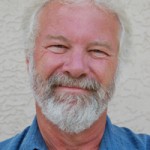 I never met Merlin Cumming but in the days since his premature death on July 31, many people have told me about him and what a wonderful individual he was. His accidental death is being felt, I am certain, by many.
Just 50 years old, Merlin died after he  fell off his bike when it hit a kerb by the Chevron station. He was riding at the time with his wife of 28 years, Charlene, and not even her efforts to keep him alive through mouth-to-mouth resuscitation and the arrival of paramedics could prevent his death.
In a quiet, dignified interview she described Merlin as a man whose heart "was always in the right place."
"He loved to help people and he didn't care about the recognition," she said. "He was the kind of man who just wanted to do right by people."
Death naturally impacts families, but Merlin's death goes beyond that, touching the lives of hundreds of people in our community. As the owner of three mobile home parks, he was respected and liked as a fair and attentive landlord — one who always wanted to see his tenants taken care of.
He and Charlene, who met back in 1975 and dated for six years before they were married, also raised two boys, Conrad and Tanner, who have grown into well-respected and liked young men.
"My sons are a lot like their dad," Charlene said. "I'm very proud of them."
Merv Franks, who worked for the Cummings for "six going on seven years"  called him "the greatest I've ever come across."
"He was an awesome boss," Franks said. "He'll be dearly missed."
Perhaps the greatest tribute that could be paid to someone is the turnout at their funeral service. More than 500 people attended Merlin's funeral service, which was held in his hometown of Sicamous last Saturday.
As I say, I never met Merlin Cumming, but I wish I had.