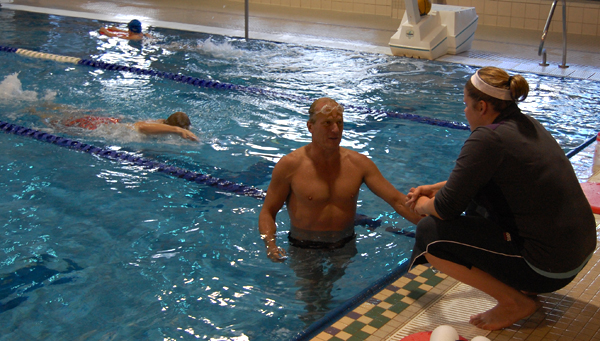 By David F. Rooney
Looking for a way to stay fit — and wet? Then, the Revelstoke Masters Swim Club may be just what you need.
The four-year-old club is currently seeking new members. You just have to be an adult who wants to improve their swimming skills and fitness.
"I'm in it for the fitness and the camaraderie," says member Graham Gale. "I could swim on my own but I find I really work harder when I'm with a group. If you're active you stay healthy. It's an excellent cardio workout."
Those workouts are put together by Aquaducks co-head coach Megan Pilla. Other people in the club see membership as a way to rediscover their love of competition.
Alex Szirmai, age 50, used to swim competitively but life and work got in the way and he gradually gave it up. Now, 33 years later he has resumed his love affair with competitive swimming.
"It's interesting," said in an interview. "Many of us used to swim a lot when we were younger but because of our jobs, life, et cetera, we just haven't been doing it."
Then, on a trip to Regina, he happened to see a swim competition and realized it had been decades since he swam in a race. Now he has joined other people like Gale and Lisa Larson in the Revelstoke Masters Swim Club.
"You don't have to be competitive," Larson said. "You can just be in it to stay fit. Each individual decides what they want to be."
She said club members meet at the Aquatic Centre every Tuesday and Thursday from 7 p.m. until 8 p.m.
"We have people in their 20s right through to people in their 50s," Larson said. "You just have to be able to swim."
Larson said adult newcomers of all ages are welcome to try the club and its program for two weeks before being asked to decide whether they'd like to take out a membership.
"For me, I've done a lot of different activities on my own, then I tried this and I really enjoy it," she said.
You can find out more about the Revelstoke Masters Swim Club by calling the Larson at 250-837-5206 or by sending her an e-mail at li_larson@telus.net.