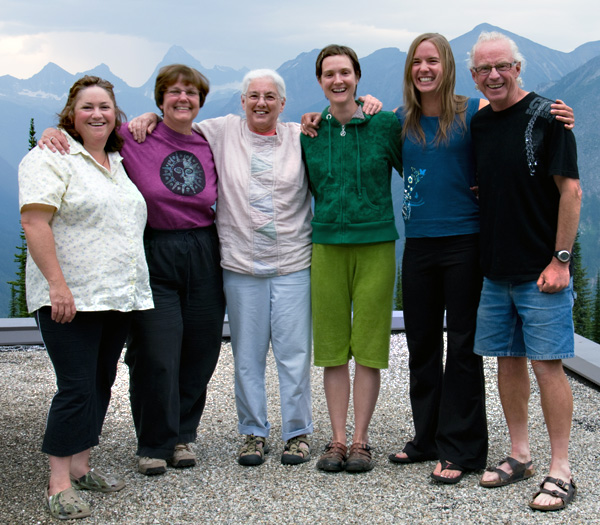 By Doreen McGillis
Parks Canada
Parks Canada hosted the second annual Art in the Park program in Glacier National Park from July 26 to 31.  The program was based on last year's very successful event, with six new artists from Revelstoke participating.  The spectacular scenery, prolific wildflowers, and great camaraderie made up for the horseflies.
From their semi-remote camp setting, the artists hiked and explored, photographed and sketched, learned about cultural and natural history, and started to produce several works of art.  This year's participating artists are: Sue Davies (oil and acrylic painting), Sandra Flood (pottery), Lyle Grisedale (photography), Rachel Kelly (acrylic painting), Cecilia Lea (oil painting), and Shannon Robinson (pen and ink).   Back by popular demand, Jan Sanseverino provided great meals to fuel their work.
Once again, Parks Canada partnered with the Revelstoke Visual Arts Society (RVAS) in this new program as a way to engage local artists with our local national parks. In October, RVAS will mount an exhibit of work created from this program, plus work from last year's artists' trip to Pacific Rim National Park.  The Friends of Mount Revelstoke generously supported this program again this year.
The Art in the Park Program is a way to help connect people to Glacier National Park through art. By creating work from their experiences in the park, artists can reveal meanings and relationships that complement the scientific and educational perspectives presented by park staff. Through artists' participation, Parks Canada hopes to expand the way the park is seen by local residents, staff, visitors and audiences beyond park boundaries.
This year's program was another success, thanks to the involvement and commitment of RVAS, the Friends of Mount Revelstoke, the artists and several Parks Canada employees, especially from the Avalanche Control Section.
We all look forward to seeing the work generated from this experience at the Art in the Park show at the Revelstoke Visual Art Centre in October.  The show will be available to tour to other communities and parks with similar programs for up to a year afterwards.
Doreen McGillis is an information officer with Parks Canada