ADVERTORIAL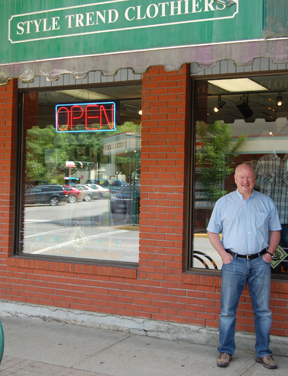 By David F. Rooney
It's no secret we are in tough times, not only here in Revelstoke and the rest of the province but across the country and around the world.
And that, for businessman Mark McKee, means it's time for his Style Trend clothing store "to do business a little differently."
"The future for Revelstoke is promising, but that is little comfort if you are out of job or not making a living to your full potential," the well-known store owner said in a recent interview.
"It is with this in mind that we are doing something that, as far as we know hasn't been done before. Starting this summer we will reduce the regular price of every pair of men's and ladies' jeans in the store by $10."
McKee said he has reduced the price of jeans once or twice each year but "only for a short specific time period."
"We will now run this day-in and day-out until further notice," McKee said.  "It's our way of saying, 'We understand and we want to be part of the solution.'"
But it's not enough for Style Trend to offer a deal to its patrons. McKee hopes "if your financial situation is good maybe you will take your $10 in savings and donate it to the Women's Shelter, the Food Bank, Community Foundation or whatever your favourite charity is."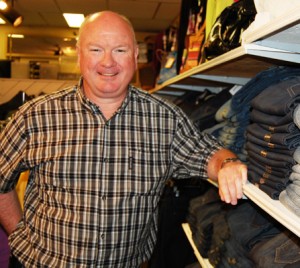 "We have ladies' Moto jeans starting as low as $45. They will be reduced by a further $10 to only $35 a pair. Every pair of regular-priced jeans will have the price reduced at the till. In addition, we will be reopening Kaos to continue clearing out all inventory at 50%-70% off."
That's a good deal and makes good business sense. But it's the notion of helping people save a few bucks so they can help others that most appeals to McKee.
As an ordinary citizen McKee has donated time, money and effort to help make Revelstoke a better place to live through the Rotary Club, the downtown revitalization process, the Chamber of Commerce and the annual Glacier Softball Tournament. That sense of civic responsibility extended to local government, too. First as a councilor and most recently as a successful two-term mayor, Mark McKee has believed that a community's strength and resilience are most accurately measured by the willingness of its people and businesses to get involved and help each other out.
That's especially true for local businesses, he says.
"We have a responsibility to be responsive to the needs of our community," says the man who describes himself as a "real, true-blue Free Enterpriser."
"I have always operated on the principle that loyalty shown is loyalty earned."
It's the kind of principle that has helped make Style Trend and Mark McKee a local success story.
A business-minded kid from a large family, McKee has always worked hard. While managing a men's wear department at a store in Victoria, He decided to take a chance on the future and moved to Revelstoke in November 1977 to work at Style Trend.
"I always wanted to own my own business but in the big city it was just too expensive," he said. "I was young and poor and I felt I had to get out to a smaller town and get more experience for a year or two and then move back to Vancouver or Victoria. But here Pat and I are almost 33 years later and we're still in the same place. And it's been great!"
That gamble paid off. The store as it existed at the time was not doing as well as it could and McKee helped turn it around. The owner made him an offer he couldn't refuse and he purchased the store in 1981.
"I was paying 18% interest. Ouch! All the money we were making was going to pay off the bank. You really learn the value of a dollar.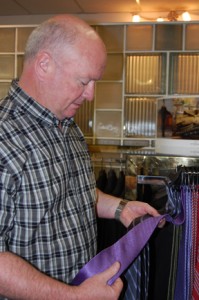 "A lot of people have this notion that owning your own business is a licence to make money. It's not. You have to pay your rent, your staff and everyone else and then, if there's anything left, you pay yourself."
Style Trend is a local success story in large part because McKee and his staff work hard and are always on the lookout for lines of clothing that are, if not distinctly high-end, are good quality and "in the medium to medium-high price range."
"The store reflects the kind of community we are. It's good, solid clothing for normal people," he said.
"We're an independent retailer and the store in some ways reflects my personality and that of my staff," he said. "We run it to a certain extent as a joint effort and if someone wants to try a new brand or line of clothing we look at it. I encourage all of my staff to be innovative and decisive. Coming here is not like going to a mall. In the city you can go to a mall and then another mall and then another mall and you see a cookie-cutter approach to retail that works in big cities and works for big companies."
In a small city like Revelstoke, on the other hand, "you get more personalized service and a mix of, in my case, clothing… that is usually a little bit different."
McKee said he stocks jeans, casual clothing, suits, jackets and women's clothing that appeal to a broad range of ages and tastes.
"Retailing in a small town is a little more eclectic. That's why my store also has a Telus Mobility dealership. You can come in and get a Blackberry or a cell phone and buy a suit at the same time. For sure there is no other store in BC like that."
For McKee running a business is not just a job. It's a lifestyle choice that gives him an opportunity to help build a better future for the community.