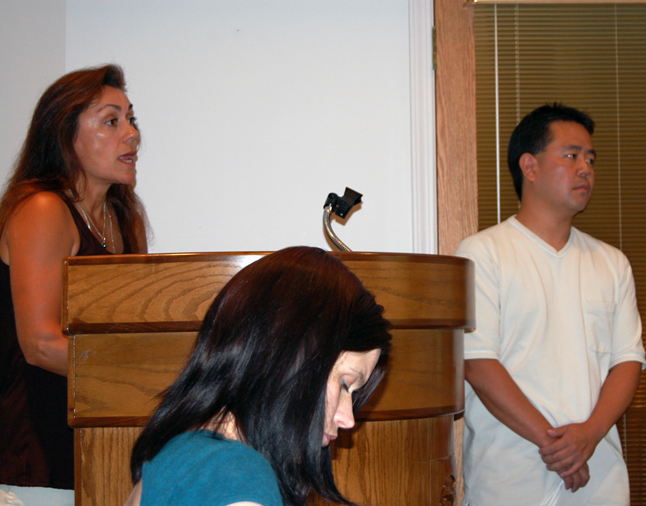 By David F. Rooney
Representatives of the merchants who lost business during the recent Grizzly Plaza Expansion along Mackenzie Avenue are demanding $10,000 each in compensation from the City and threaten legal action if it fails to act.
Speaking before City Council today, Grizzly Book and Serendipity Shop owner Vanessa Smith said "merchants have without doubt felt the loss of income and business over the last three months."
"Most merchants are down 40-50 per cent and during the summer that means we will be paying many bills out of our own pockets and recouping the losses is just a vision," she told Mayor Dave Raven and Council as 14 supporters listened from the gallery. "We fell the Tort of Private Nuisance… would be appropriate in our situation."
A tort is a civil action based on interference with one's enjoyment of their property. There are many difference example of that interference, including dust, noise and the interference with regular business. A Tort of Private Nuisance was used to force the City of Vancouver to pay $600,000 to businesswoman Susan Heyes after construction along Cambie Street grossly interfered with her business.
"In Susan Heyes' case the courts found that officials had negligently misrepresented the nature of the construction method and created a nuisance causing business losses," Smith told Council. "(The) damages we are asking for are $10,000 per business."
Smith's husband, Robert, publicly told Council he would support his wife and would hire a lawyer to take the City to court if it was unwilling to reach some kind of an agreement with the merchants.
"It's unfortunate that it has come to this," Raven told Smith and her supporters. "Council tried to do something that was good for the entire community. I have every confidence that it (the expansion) will be good."
He promised that Council will discuss and seriously consider the merchants' demands and will reply after it has deliberated. That could take a week or two. He also asked Smith for a list of the business owners who are supporting the demand for compensation.
About 24 businesses are located on Mackenzie Avenue between Victoria Road and Third Street West. Some businesses located on Second and First Street have also complained of lost business during construction.
Does this mean the merchants might actually sue the City? That's doubtful as even Smith admits that the demand is really a starting point for negotiation.
The merchants all agree that the expansion is needed.
"At the end of the day all of the merchants agree that this is going to be a great thing," Village Idiot owner Joel Asher told Council when Mayor Raven asked if anyone else had something to add to Smith's comments.
But that is not the issue. The business owners are angry with Council because they say it failed to adequately notify them about the construction and Councillors didn't even take the time to ask them how things were going after all the fences were erect, giant holes dug and sidewalks ripped apart.
As reported in The Revelstoke Current over the last three weeks, the merchants have for weeks been upset with what they see as Council's failure to properly notify them about the construction or even heed their complaints. At least two business owners, Smith and Jason Shoji of Intense Audio Visual, had complained directly to City Hall. Smith even wrote a letter dated May 29 but did not receive a reply until a month later.
To be fair to the City, it did advertise in the local weekly newspaper that construction was due to begin but Smith complained that the ads are so dull and the font used so small that no one can read them. This is an old complaint about the City's ads, which it is legally required to place in what government deems the "newspaper of record," and one that municipal officials have been at a loss to fix.
Regardless, business did suffer during construction as both regular local customers and tourists shied away from a downtown core that was in such visible disarray that appeared to be virtually inaccessible.
The expansion was to have been completed June 22, but problems with the bricks and the subterranean piping along Mackenzie forced an extension on the project until July 23. It was not actually completed until July 24 and even so, the bricks that were laid at the intersection of First and Mackenzie may be substandard. They are also unevenly laid. And the mayor said they, too, may well need replacement in a year
The project was supposed to cost about $1 million and, while all the bills have not yet come in, it may be over budget.