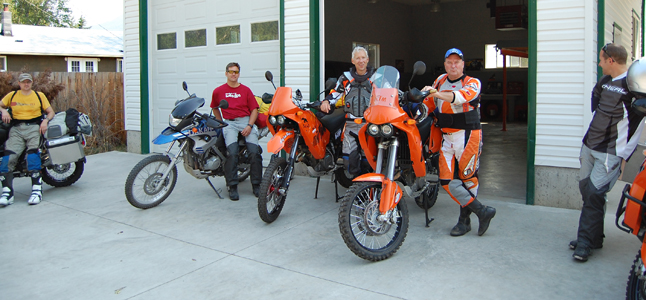 By David F. Rooney
Gary DeBlock and Rich Hamilton left on a road trip with a difference: a 4,600-kilometre trip down the spine of the continent to Mexico.
"A lot of people go on trips like this — to Inuvik or places like that — but I don't see the challenge; it's mostly gravel or paved roads," Hamilton said in an interview today. "But a trip by dirt bike down the Continental Divide? That's something else."
The two men left Friday morning, accompanied for part of the trip with three friends. They were to cross the U.S. border at Roosville then continue along logging and forestry roads, for the most part, through Montana, Idaho, Wyoming, Colorado and New Mexico. Their trip will conclude at the small Mexican border town of Puerto Palomas Centro.
"We're just going to cross the border and get a taco and a beer," Hamilton said.
The two men, will be roughing it — camping out — on most nights with plans to hit a motel every "six days or so," DeBlock said.
Both men are experienced motorcyclists. DeBlock raced bikes for 20 years. "If it was on road, dirt or ice I've raced it," DeBlock, a machinist, said. "I've had all kinds of things in my face."
Hamilton, a realtor working for Revelstoke Mountain Resort, is an experienced mountain biker and biker, too. The duo are riding KTM 640 Adventurers, which are 640cc enduro-style bikes that carry 28 litres of fuel capable of carrying them 450 km between fuel-ups. The Austrian-made bikes are often used on the famous Paris-to-Dakar Race.
One of the things that will make this adventure a little different is the fact that Hamilton's bike will be equipped with a SPOT unit. This device pulls in GPS coordinates and then sends them out on the satellite telephone network which then interfaces them onto a website for real-time tracking. Anyone can link to this site to see — in real time — where DeBlock and Hamilton are at all times. The link to the map is:
http://share.findmespot.com/shared/faces/viewspots.jsp?glId=03vFfomGChyvI2tVxVFWn1KHGpfW2PS1Q
After devouring their tacos and beer the pair will head for Silverton, Colo., and then take the dirt-and-gravel TransAmerica Trail to the Pacific Ocean. By then it will be time to head home. And that will be a welcome moment.
"After 30 days we'll be cooked," Hamilton said.
The two adventurers will be sending back periodic photos and updates on their journey to The Revelstoke Current.