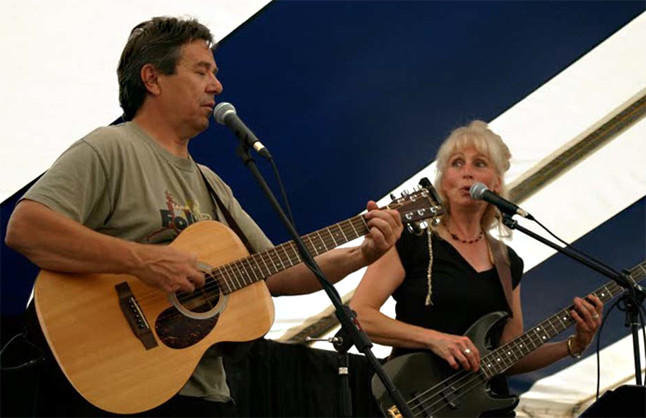 By David F. Rooney
Two well-known local residents, folk singers Darrel Delaronde and Saskia Overbeek, will be performing at Grizzly Plaza this weekend on both Aug. 1 and Aug. 2.
Long-time fixtures of the local music scene, the pair moved to Vernon a few years ago and, now, make their home in Saskatchewan.
If you've never heard Darrel and Saskia perform then you are missing a definite musical force. They have been successful on the western Canadian and the European musical scenes. Together they were nominated for Album of the Year in Saskatchewan in 2008 and, individually, Delaronde was nominated as Aboriginal Artist of the Year in that province in 2008. His songs resonate deeply with audiences (I particularly like his local historical songs about Cultus Jim and Major Rogers). Overbeek  has twice topped the European Indy Charts with selections from two of her albums, Saskia (produced in collaboration with Delaronde) and Lady Luck.
As if that isn't enough of a credential try this: for years they have opened for legendary folksinger and songwriter Gary Fjellgaard.
Certainly they get good press. They received excellent reviews in Calgary where they performed at The Stampede this year and in Switzerland in 2008 where they received standing ovations and so impressed Canadian Ambassador Robert Collette that he wrote a highly complimentary endorsement about their performance. Together they have created three truly excellent CDs: Laura's Kitchen, Saskia and Family Tree. Overbeek has two other CDs to her credit, Lady Luck and Back in Time.
They perform at Grizzly Plaza on August 1 and August 2 from 6:30 p.m. until 9:30 p.m.