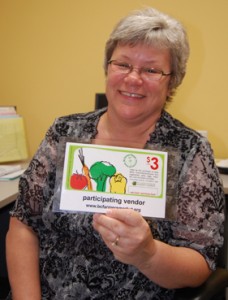 By David F. Rooney
Eligible local families that are finding it difficult to afford nutritious food can now receive an extra $15 a week for 17 weeks through an innovative BC Association of Farmers' Markets coupon program.
"This is a very flexible program," says Food Bank Coordinator Patti Larson. "This is the first year it is being offered in Revelstoke. Other communities have seen redemption rates of 97 per cent."
Participating families receive a five-coupon book worth $15 each week, which they can use to purchase fruit, vegetables, dairy products, eggs and other healthy products at the Farmers' Market.
What they can't buy are prepared foods such as honey, bread and jam.
"These are just like cash," Larson said. "The only difference is that you can't redeem them for money or get change when you buy something. So you have to try and get the full value for the coupons."
Participating families can also learn household and kitchen skills that can help them stretch their budgets and prepare more nutritious meals than they might previously have been eating, she said.
People interested in this program should contact Patti Larson at 250-837-2920.