By David F. Rooney
Belonging, the new Visual Arts Centre exhibition set to open on Friday (July 3 at 6 p.m. will surprise, delight and, in some cases, provoke strong reactions from local art lovers.
Members of the Centre's exhibition committee spent Saturday morning viewing and judging the more than 54 works that were submitted for the show, which is being held in honour of the 2009 Homecoming and which runs until Aug. 28.
Many of the works come from well-known local artists such as Pat Anderson, Nancy Geismar and Tina Lindegaard. But others are from artists new to the area. The works include sculpture, paintings, drawings, furniture, collages and assemblages. Surprisingly, there are no photographs in this exhibition.
The works on display cover a wide range of images and forms, all of which fall beneath the deliberately broad umbrella of the theme, Belonging. Some are recognizable landscapes. Others sensitively explore the meaning of family and others, such as the sculptures such as Full Metal Basket No. 6 and Safety Nest and two-dimensional images such as Eyes of Addiction and Red Wave are likely to provoke comment and discussion.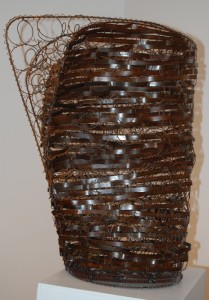 Deciding what goes in and what doesn't is a complex procedure. Five judges — all members of The Centre's exhibition committee — spent four hours jurying the show last weekend. Judges scored each work individually. Their scores were averaged to produce the rankings that determined who fell into the Gold, Silver and Bronze categories. The judges also discussed the merits of each work. In a couple of cases individual judges recused themselves from the deliberations as their own work was dissected and discussed.
The results of the jury process will be visible for all to see when the show opens at the Revelstoke Visual Arts Centre this Friday, July 3, at 6 p.m. It will be open to the public until August 28.
This is not a show you will want to miss. Everyone is welcome to attend the opening. Admission is by donation and there will be refreshments.
The Visual Arts Centre is located at 320 Wilson Street behind the Days Inn.